What Engine Should You Put in the 2020 Ram 1500?
If you're searching "Ram dealer near me," you most likely are interested in knowing which engine you should put in your 2020 Ram 1500. In the ever-competitive full-size truck segment, the 2020 Ram 1500 stands out for its excellent towing and payload numbers and sophisticated interior. It's not just that it's a work truck and luxury truck at the same time—it's a truck made for the modern demands of life, whether you live on a ranch or in town. With many powertrain and equipment choices, there's an option for every buyer. If you need your truck to haul serious loads, drive the kids to school, or for commuting to work, or you just want a truck for off-road adventures, it's easy to find a model that suits your lifestyle. Here at CDJR Derrow, we are ready to help you find that perfect vehicle for you.
Its versatility is what makes the 2020 Ram 1500 not just one of the best full-size trucks on the road, but one of the best vehicles on the road. Available class-exclusive air suspension and standard coil-spring suspension provide unprecedented comfort and a smooth driving experience. Inside, you will find as much luxury and technology as you need with premium materials, Ram's Uconnect technology, and innovative storage features. For those of you who value serious towing and off-road prowess, the Ram 1500 offers an all-new turbodiesel engine with best-in-class torque for the 2020 model year.
You won't find a more well-rounded truck on the market. The refined interior, impressive tow rating and comfortable ride set it apart from other trucks in its class. And with a variety of models to choose from—including two body styles, two bed lengths, many state-of-the-art features, four engines, and two drivetrains—there's sure to be a configuration explicitly designed for your needs. So let's take a look at the engine options you have to choose from the 2020 Ram 1500. These are all exciting engines, so deciding which option is best for you might be the hardest part of looking for a new truck.
3.6-liter Pentastar V6
The first decision you'll encounter when shopping for a Ram 1500 is determining which engine best fits your needs. There are four engine options, and they are all good ones. The standard engine for all trim levels is the 305 hp, 3.6-liter Pentastar V6. This engine employs an eTorque mild-hybrid electric-assist system that features a 48-volt battery pack and a motor-generator for improved fuel efficiency and extra torque when needed. It adds up to 90 lb-ft of additional torque, and you can count on a fuel efficiency rating of 20/25 MPG. This is one of the best fuel efficiency ratings for an entry-level engine in the segment.
5.7-liter V8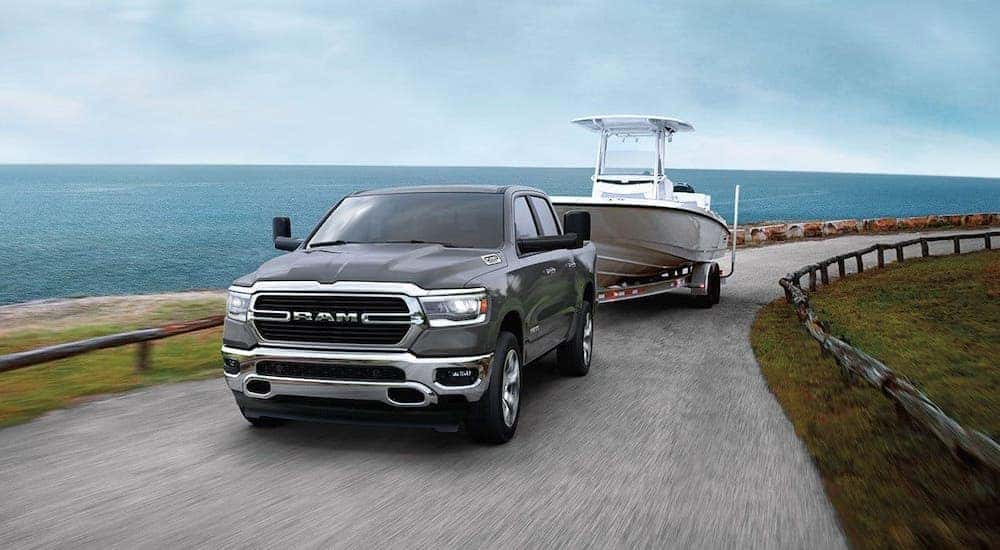 The other engine that features the eTorque mild-hybrid technology can be had with or without this system. It's a 5.7-liter V8 with 395 hp and 410 lb-ft of torque. Choosing the eTorque system will add 130 lb-ft of torque when the situation calls for extra power, while also increasing fuel economy. The mild-hybrid system also boosts the tow rating from an impressive 11,610 lb. to among the best in its class at 12,750 lb. The fuel economy for this big V8 with the eTorque system is 17/23 MPG.
5.7-liter V8 with eTorque
The eTorque system comes as an option for the 5.7-liter V8, and though it doesn't change the horsepower and torque ratings permanently, it provides extra power when needed. The mild-hybrid system employs a 48-volt battery pack and a motor-generator to provide bursts of torque when you need extra power. So if you will be towing and hauling heavy loads, this is a great bonus to have under the hood. As other engines might lag up a steep hill while towing, this engine kicks in another 130 lb-ft of torque when you need it the most. It also improves fuel economy for the engine.
3.0-liter turbodiesel V6
New for the 2020 model year is an optional 3.0-liter turbodiesel V6 that features best-in-class torque as well as the highest half-ton diesel tow rating at 12,560 lb. It also offers an impressive fuel economy at 22/32 MPG. This is an exciting engine from Ram as it provides both incredible towing and payload (2,040 lb) capability while also saving you money on fuel. With a staggering 480 lb-ft of torque and 260 hp, this is a beast of an engine that can do just about anything you ask of it. And though it's known for its responsiveness and raw power, it's also an incredibly refined and quiet engine.
Suspension
No matter which trim you choose, you will have an impressive ride. All models come standard with Ram's unique coil-spring suspension. Where other trucks still use leaf-spring engineering based on horse-drawn carriages, the Ram brings modern-day tech to their ride, and you can feel the difference. Optional is air suspension for an ultramodern ride. When equipped with air suspension, the truck will automatically adjust ride height for increased fuel efficiency and off-road capability. Regardless of the suspension you choose, you will have best-in-class comfort and a relaxed ride.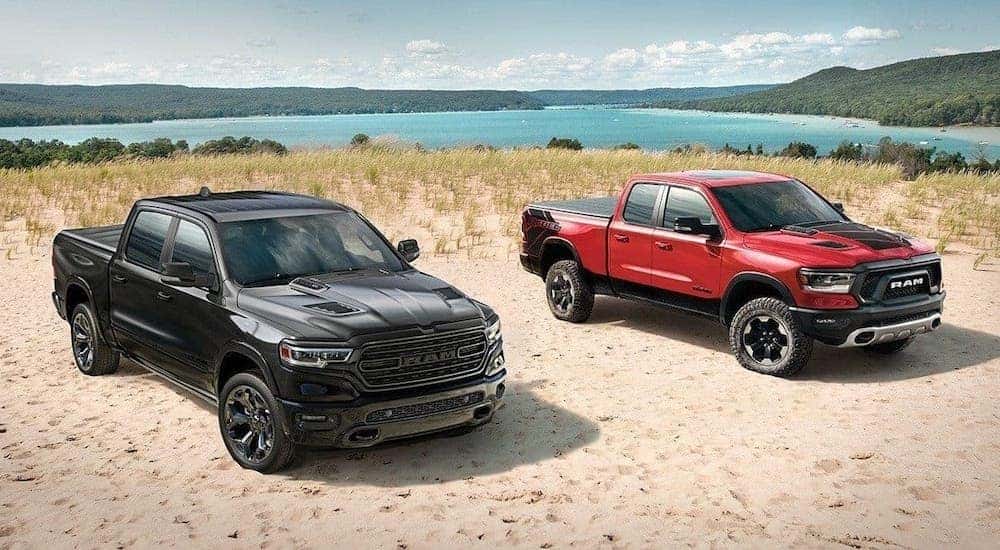 Off-Road Rebel
But the 2020 Ram 1500 does not just excel on-road. The Rebel trim offers impressive off-road capability. With a factory lift, performance suspension system, and 33-inch Wrangler DuraTrac tires, the Rebel is a legitimate off-road menace. The Rebel can be had with either the 5.7-liter V8 or the 3.0-liter turbodiesel V6, so you have a choice of which engine you prefer on the trail. There are also steel plates protecting its underbelly, standard Bilstein shocks, and tow hooks. Of course, no off-roader would be complete without a locking rear differential. This lets you split power evenly to the two back wheels if you get stuck, or so you avoid getting stuck in the first place. It also has a 3:92:1 axle ratio, allowing for more torque to the wheels. This is an impressive off-road machine, and one of the best on the market. In fact, it is hard to find a better off-roader anywhere on the market.
You Have to See It to Believe It
Whether you are looking for a new Ram 1500 or are not sure yet what vehicle best suits your family, come on down to CDJR Derrow in Defiance, OH, and check out our extensive inventory. We have a vast array of vehicles to choose from, so you are sure to find the perfect vehicle for you and your family. Our staff is here to make sure your car shopping experience is easy and enjoyable because buying a car should be fun. And we have a lot of fun vehicles to choose from, including the Luxury Car of the Year—the 2020 Ram 1500. That's right, Cars.com named the Ram 1500 the most luxurious vehicle on the road for the 2020 model year.
While the engine options are impressive, wait until you see the Ram's luxurious interior. With one of the most advanced infotainment systems—including an optional 12-inch touchscreen—on the market and the finest materials—we're talking luxurious leather and genuine wood trim—you will feel like you are in a luxury car, not a truck. This is a vehicle that transcends segments and has redefined what people expect from a truck. Come on down and take a test drive and see what all of the commotion is about—you will not be disappointed.