The Diesel Wrangler Reaches America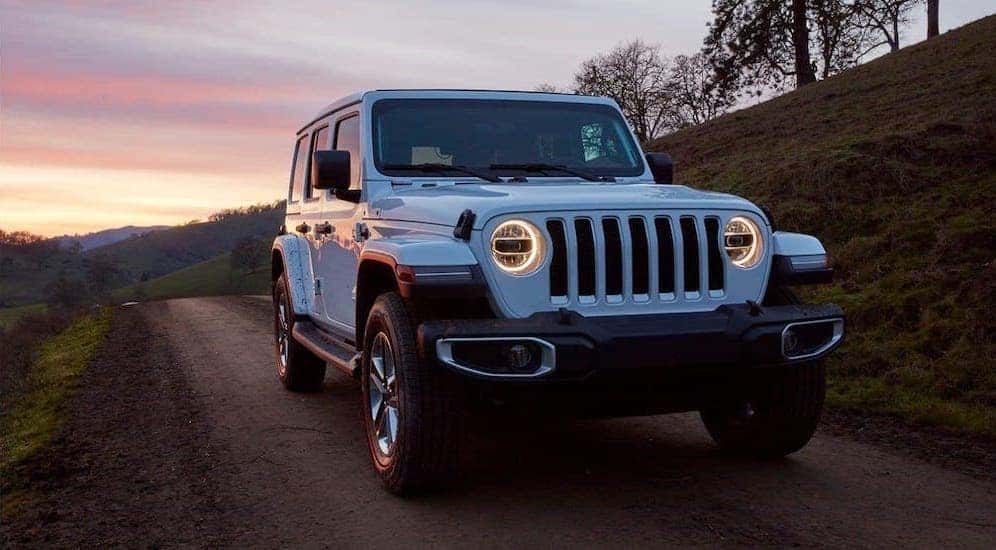 Diesel engines offer many advantages over gasoline engines. Not only do they have significantly better fuel economy and range, which can be a critical advantage when adventuring far from civilization, but they also produce considerably more torque, making them the superior choice for any heavy-duty work. But while drivers in the rest of the world have long appreciated what diesel engines can offer, the American market has been reluctant to move away from gasoline engines. Fortunately, that is now changing, and ever more manufacturers are now offering diesel engine options. The latest of these is Jeep, which has recently released the first-ever diesel Wrangler. And if you are wondering "when can I get a diesel Wrangler," the answer is however long it takes you to visit the Jeep dealership near you. Because while availability is still limited, Jeep dealerships are already selling diesel Wranglers today.
More Torque Than Ever Before
While the 2020 model year is the first time that American buyers have had access to a diesel engine for the Jeep Wrangler, the diesel Wrangler is not a new idea. In fact, Jeep has been selling diesel versions of the Wrangler on foreign markets for well over a decade now. However, a combination of environmental regulations and the American preference for gasoline engines has kept this option from making its way to Jeep dealerships here in the states. Further, the small 2.2L four-cylinder turbo-diesel used in the current foreign Jeep Wranglers is fairly unimpressive. With 200 horsepower and 332 lb-ft of torque, it is really only a marginal improvement over the existing 2.0L turbocharged gasoline engine, which produces 270 horsepower and 295 lb-ft of torque.
In order to appeal to the needs of American drivers, Jeep understood that it needed something better. The engine that was ultimately selected is a version of the diesel that was offered in the Jeep Grand Cherokee up through the 2019 model year, and that is currently available in the Ram 1500 pickup. This is a highly capable 3.0L turbocharged V6 EcoDiesel that generates an excellent 260 horsepower and 480 lb-ft of torque. These numbers are particularly impressive because the horsepower rating is right behind that of the 2.0L gasoline engine.
While it is expected that diesel engines will have a large advantage in torque, they usually fall far behind gasoline engines in terms of horsepower. And while the Wrangler 2.0L is admittedly tuned for torque over horsepower, a diesel engine that can keep up with a gasoline engine at higher speeds is no small feat. In fact, with the new diesel option, the value of the Wrangler' 2.0L gasoline engine as it is now seriously in question. Previously, it offered more torque and better fuel economy when compared to the Wrangler's base V6. But now the diesel does those same things far better and only gives up a negligible amount of horsepower in the process. Perhaps this played a role in Jeep's recently advertised 6.4L gasoline V8 Wrangler?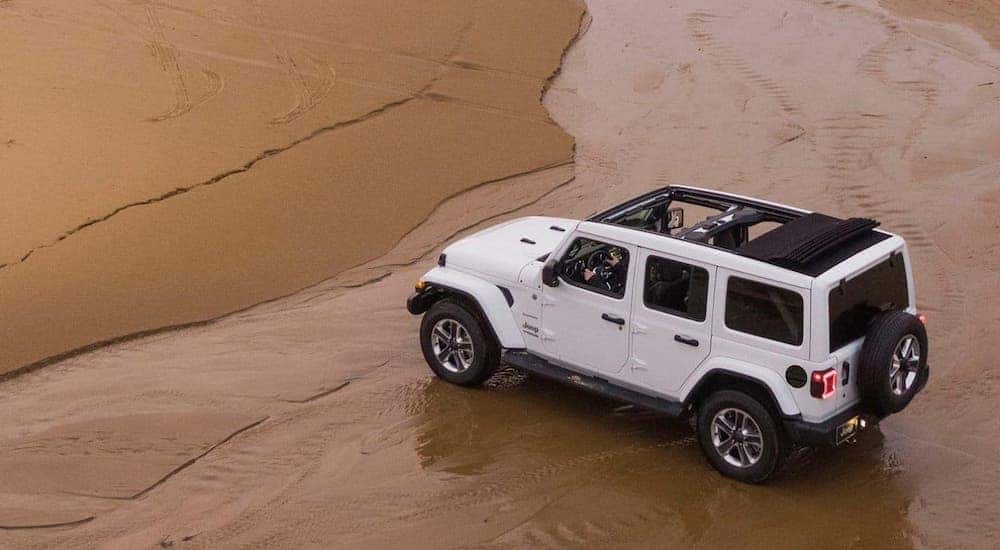 Extended Range for Endless Adventure
But if the new diesel provides more torque than ever before, it also gives the Jeep Wrangler unprecedented range. Diesel engines are renowned for their high fuel efficiency, and the 3.0L EcoDiesel is no exception. The most efficient gasoline version of the 2020 Jeep Wrangler Unlimited is the 2.0L turbo paired with the eight-speed automatic transmission, and in this configuration, it is rated at just 21 MPG combined. In contrast, the new diesel Wrangler achieves no less than 25 MPG combined. Indeed, the EcoDiesel is so efficient that it actually boasts a higher fuel economy rating in city driving than the 2.0L engine has in combined city and highway driving.
Altogether, the EPA estimates that a diesel Wrangler will save the average driver up to $200 a year in fuel costs when compared to a gasoline Wrangler Unlimited. But while the much higher fuel economy of the diesel engine translates directly into lower gas bills, it also means significantly improved range.
With its standard 21.5-gallon fuel tank, a 2020 Jeep Wrangler Unlimited with its most efficient gasoline engine can, on average, travel roughly 450 miles without refueling. In contrast, the diesel Wrangler Unlimited has an average range of almost 540 miles on a single tank. Being able to travel 20% further on the same amount of fuel is extremely valuable when you are exploring the wilderness far away from the nearest gas station. It can even indirectly increase your Jeep's payload by eliminating the need to install larger aftermarket gas tanks or carry extra fuel. In short, the extra range provided by the new EcoDiesel engine makes the already adventurous Jeep Wrangler an even more capable backcountry explorer.
What Wrangler Models Have The Diesel?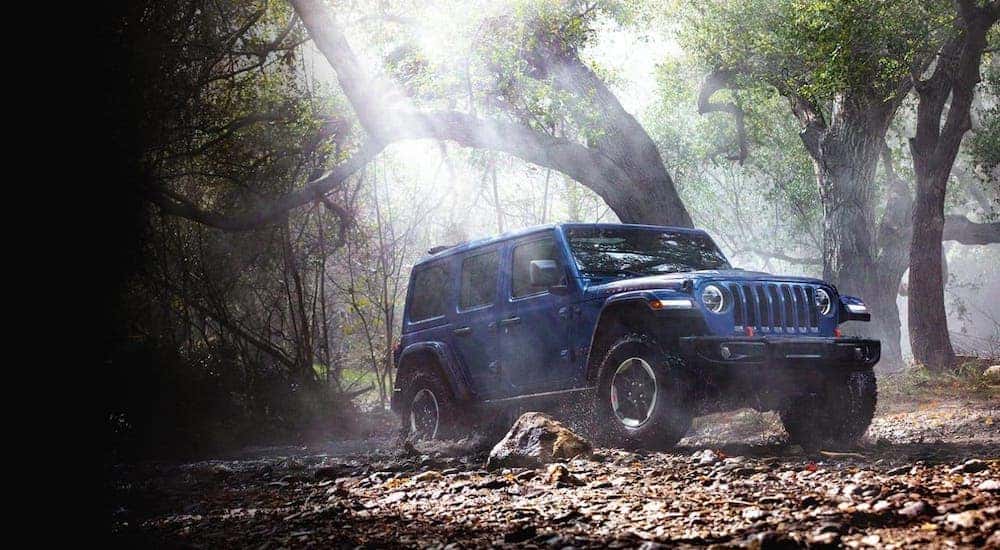 While diesel Wranglers are available today, the diesel engine is unfortunately not yet available across the entire Jeep Wrangler lineup. For the 2020 model year, it is only being offered on certain trims of the four-door Jeep Wrangler Unlimited. So if you are set on getting one of the more compact two-door Jeep Wrangler models, you will have to stick with one of Jeep's two gasoline engine options. Further, while the Wrangler stands out as one of the few remaining vehicles that are still solid with a manual transmission option, the new diesel engine is only available paired with the Wrangler's eight-speed automatic transmission.
While we hope that Jeep will change its mind and release manual and two-door versions of the new diesel Wrangler down the road, so far, no official plans have been announced. Such a development will likely depend on how well the current automatic four-door diesel Wrangler sells.
Fortunately, if you are okay with four doors and an automatic transmission, the majority of the trims for the 2020 Jeep Wrangler Unlimited can be optioned with the diesel engine. This includes everything from the base Sport trim, to the legendary high-performance Rubicon trim, to the most luxurious High Altitude trim. So while there are some trim restrictions, a visit to your nearby Jeep dealership should still be able to turn up a diesel Wrangler that fits your personal needs.
The trims to avoid if you are looking for a diesel engine are mostly the special editions, including the Willys Sport, Black and Tan, Freedom, North Edition, and Rubicon Recon trims. However, aside from their unique cosmetic features, none of these trims offer any features that are not available on another trim of the 2020 Jeep Wrangler.
Join the Diesel Revolution
While the diesel Wrangler is still a very new vehicle and has only begun reaching local dealership lots, it is available today for anyone seeking the most powerful and longest-range factory Wrangler ever produced. And while it is possible that in future Jeep will expand the diesel engine options to include the two-door Wrangler or a manual transmission, given that there has been no official word on the matter it is probably best not to put off purchasing a diesel Wrangler in the hope that this will occur sometime soon. If you are still on the fence or have questions about the new EcoDiesel engine, then drop by our dealership today and give one a test drive. Here at Derrow Chrysler Dodge Jeep Ram in Defiance, OH, we are always happy to show off our latest models.