How The 2021 Ram 1500 TRX Changes The Game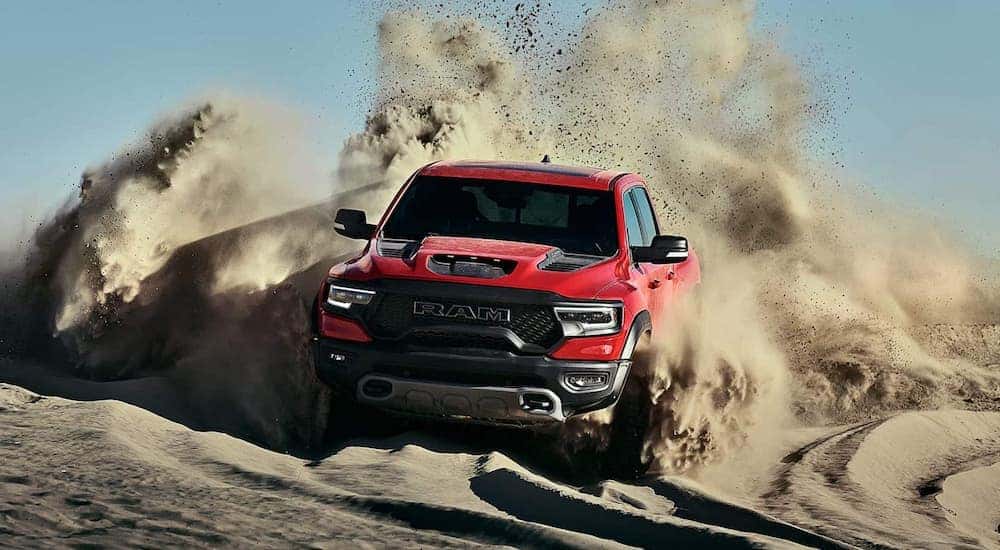 The 2021 Ram 1500 TRX is here to change the game. How? Fiat-Chrysler Automobile engineers decided to redo everything you thought you knew about the Ram pickup truck and combine luxury components with a full-sized vehicle designed to tackle some of the roughest terrain mother nature can throw at it. Everything about the Ram 1500 TRX is designed to "wow," so much so that if the overhauled chassis and sporty new aerodynamic frame didn't win you over, I'm sure the 702 horsepower 6.2-liter Hemi V8 engine just might. The specs alone are enough to get most of you joy-riders and motorsport aficionados speed-dialing your local Ram dealer so you can brag about your off-roading adventures in the beefy new pickup truck.
2021 Ram TRX Performance
Powering the 2021 Ram TRX is the Hellcat engine, a beefy 702 horsepower beast that can carry FCA's muscle-truck from 0 to 60 mph in under 4.5 seconds at an impressive 650 lb-ft of torque. The engine was originally used as part of the redesign process for the Dodge Charger and Challenger, hence the name the Challenger Hellcat. However, the powers that be had other plans for the engine… Specifically hoisting it onto the TRX frame that was almost entirely rebuilt from the ground up.
Special 35-inch all-terrain tires were also specifically made for the 2021 Ram TRX's 18-inch wheels. This puts the truck 11.8 inches off the ground and allows the truck to traverse through up to 32-inches of water, which is mighty close to three feet, meaning that even in the densest rivers and streams, you'll be able to power through them with the Ram TRX.
Off-Road Adventure
One of the big selling points of the new 2021 Ram is being able to take the truck across terrain where few off-the-line production vehicles are capable of going. This new generation pickup truck was specifically designed to conquer the unforgiving off-road landscape.
The TRX frame utilizes heavy-duty reinforced steel that underwent reduced torsion, so there's less constriction on the metal. This means that this process reduces wear and tear on the frame during stress-inducing actions absorbed by the suspension, such as off-road activities, hauling, uphill climbs, or Saturday afternoon mud-racing.
The improvement to the overall suspension wasn't just about strengthening the Ram's core durability; it was also about improving handling across various surfaces. The engineers achieved this by upgrading the Ram to make fine use of the Bilstein Blackhawk adaptive shocks, which work to dampen vehicular vibration through nitrogen-charged remote reservoirs that automatically stabilize the vehicle across bumps, shunts, and jumps. In short, this will not only help the TRX trek through some of the toughest terrain out there, but it will also help with providing drivers with exceptionally smooth rides across pavement thanks to the optional shock settings that users can modify.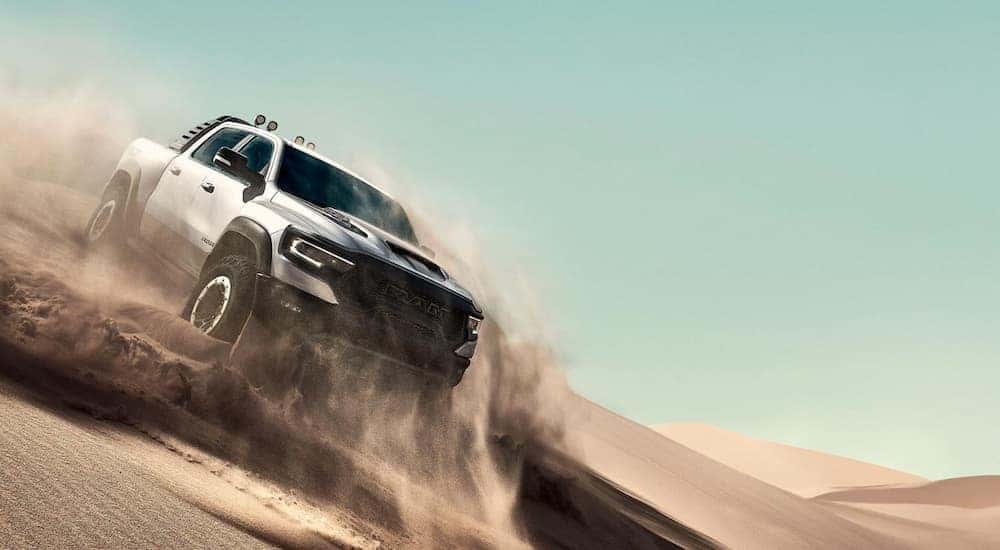 Industrial Towing Capacity
Defiance, Ohio, isn't known for its rocky hillsides or high-altitude roadways, but there's still the necessity of having a vehicle that can handle the day-in and day-out workload that comes with industrial commuting and hauling supplies across town. The Ram 1500 TRX was designed both to appeal to off-road enthusiasts who like to play weekend warrior, as well as for the nine-to-five contractor who needs a sturdy and reliable vehicle that can stand up to the task of efficiently hauling materials from one end of the city to the other.
For haulers, shippers, campers, and towers, you're in luck because the 2021 TRX offers a sizable payload carry-weight of 1,310 pounds and a max towing capacity of up to 8,100 pounds. It's no hidden secret that the Ram TRX beats the Ford F-150 Raptor by more than 100 pounds in both carry-weight and max towing capacity, giving it an edge in the utility department.
Luxury And The Beast
Luxury and off-roading are two words you don't often hear together, but surprisingly enough, FCA's 2021 Ram 1500 TRX is designed to intermingle the two concepts in ways that we haven't quite seen before, especially from a full-sized utility pickup truck. Usually, you have one or the other but not two together. In this case, the TRX puts luxury, comfort, usability, and functionality at the forefront of its interior design specs.
One such standout feature is the flat-bottom steering wheel with easily accessible paddle shifters that make it convenient for those who would prefer to shift as if they were in the Le Mans. Don't worry, though, floor shifters are still available for those who like to truck on down the road old-school style.
The TRX's interior comes with three rather chic options: cloth and vinyl, leather and suede, or leather, suede and carbon fiber. Some of the accents include leather-clad dashboards, micro-suede furnishings over the top and bottom of the steering wheel, and specially marked accessories with carbon-fiber plating across the dashboard.
There's a unique marriage between style and ruggedness with the new TRX, and it was obvious that the designers wanted a truck that appealed to those who needed something tough and reliable but also wanted something stylish and sleek.
Ram 1500 TRX Uconnect Features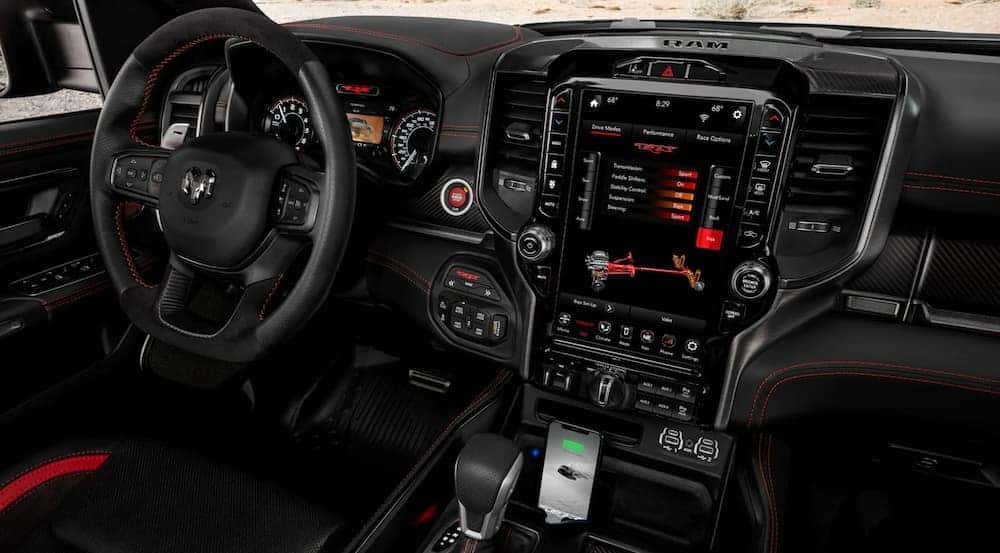 It's not all about looks, though. The Ram 1500 TRX's interior is a smorgasbord of functionality. Within the center of the dashboard rests a 12-inch display, complete with a configurable touchscreen that can be used for single or dual-data displays, including but not limited to vehicle telemetry, GPS navigation, and drive modes. Also, for the first time in a Ram featuring the Uconnect 4C touchscreen, users are able to make use of the Performance Pages app, complete with downloadable data that can be shared across online communities.
The Off-Road Pages are also designed to allow drivers and passengers to view their surroundings based on the 360-degree surround-view camera system, enabling you to easily plot out and navigate through obstruction-ridden terrain during your off-road adventures.
For travelers who are less worried about utility and more concerned about entertainment, the infotainment system also offers the latter in spades. You can plug in USB devices to listen to music or use SiriusXM radio to catch up on your favorite podcasts. Alternatively, you can create your very own playlist of stations that can be customized and configured via Pandora.
Ram 1500 TRX Price
The 2021 Ram comes with some of the most high-end features provided by a full-sized pickup truck, and the price seems to reflect that. So how much will it run you? Well, the 2021 Ram 1500 TRX price starts at $71,690, while a special launch edition is available.
It's no surprise that the truck's luxury accouterments and heavy-duty off-road capabilities would render the price somewhere north of most expectations, but don't worry, there are options. You can pick and choose what interior combinations you want, along with various other personalized features to keep the price as low as possible.
However, whether you're into outdoor motorsports events featuring heavy-duty vehicles, or you're looking for a reliable truck that can handle the potholes and touch job sites, the Ram 1500 TRX seems to occupy a convenient space between both requirements.
The sporty new truck from FCA is currently available to order right now, including special custom orders. Be sure to visit Derrow CDJR in Defiance, OH, for more information on purchasing, pricing, and availability of the 2021 Ram 1500 TRX.