Five-Minute Car Loans: What You Need to Know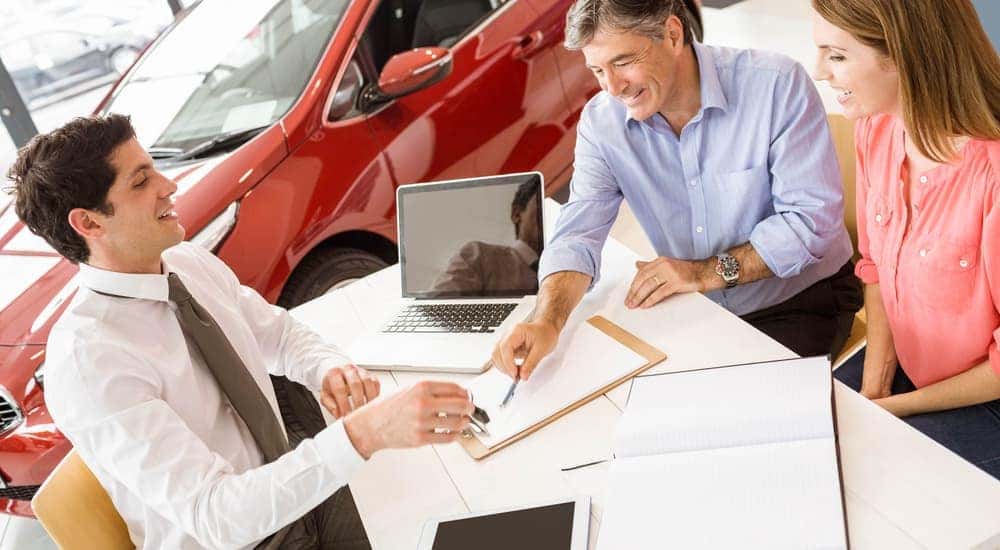 Car dealerships offer a lot of services to buyers to make the buying process as easy as possible. It's a smart way to do business. Think about how simple it is to go on a dealership website, apply for a loan, purchase a vehicle, and then even have your car delivered. It's about as easy as buying from Amazon, but there are a few things to know before you fill out the 5-minute car loan paperwork. The ins and outs of a car loan can be complicated, but there are ways to simplify the process ahead of time.
Knowing a few financial terms in advance of applying for a car loan may save you from making common mistakes that could affect your credit in the future or prevent you from purchasing a vehicle now. Simple measures like knowing your credit score, getting pre-qualified, determining fees, and having a price point for shopping can make the process go much more quickly and easily.
First, Know Your Score
Just about any financial advisor worth their salt will tell you to know your credit score before asking for a loan. Why? Because your credit score determines whether or not you will qualify for a loan and for how much. Credit scores are assigned by specific institutions that monitor your financial activity, from how much debt you currently owe to how good you are about paying your debts on time. Certain credit card companies like Capital One offer the information to you through your active status as a cardholder if you already have a line of credit open with them, or you can ask your bank if they can pull the information for you.
By law, you are entitled to check your credit once a year without it affecting your credit score, so be careful about how you go about doing this. Before you check your credit, you may even want to speak with a couple of knowledgeable financial advisors to be sure you're getting your information the right way so it won't negatively impact your credit.
The Difference Between Pre-Approval and Pre-Qualification
The differences between pre-approval and pre-qualification are significant enough that one actually affects your credit score, while the other is virtually useless. When you are prepping for the purchasing process, be sure you understand the nature of each of these terms so you don't unnecessarily damage the very credit you need in order to secure a loan.
If you've ever received a notice from a credit card company that says you're "pre-qualified" for a line of credit, be wary. This does not mean you are guaranteed a card. What it means is that they have run some numbers based on general information they could find about your credit, income, or spending habits, and they are hoping you'll apply for a credit card. When you give them access to your actual financial information, their offer can change on a dime. Once they know how much actual debt you have on your record, how much income you have to pay off the debt, and how good you are about paying your debts on time, that is the real determining factor of why you get a line of credit.
What this means is that a credit card company or lending institution can do what's called a "soft check" of your credit to determine whether or not you might qualify for a loan. Again, this is done with incomplete information, so it may not be accurate, and they don't have to honor it. You can, however, use this "soft check" of pre-qualification as a way to find a ballpark figure for what you can afford when you shop.
Conversely, pre-approval is done with more information about your full financial history, and it requires what is called a "hard check" of your credit. This may impact your credit score negatively, so you only want this to happen once when you go car shopping, typically when you're ready to sign the papers for purchasing the car you know you can afford. When you get pre-approved for a loan, that offer is usually honored by a lending institution because they have done the credit check necessary to ensure you qualify. If you walk into a dealership with a pre-approved loan from a bank or credit union, this is essentially like having a check in your hand to purchase a vehicle.
Before you log into a dealership website to see what type of loans or credit they offer, know the difference between these two terms so you can keep your credit score healthy and prevent an accidental hard credit check.
Understand the Fees
When you qualify for a loan, read the fine print before signing anything. Be absolutely certain you understand exactly how much interest you are paying, what fees will be charged monthly or annually, and whether or not the lending institution plans to raise the fees over time. If you get a loan with variable interest rates, that means the institution can shift the amount of interest you pay. Other fees you might incur could be simple things like taxes or registration costs, and these vary by state. Don't ever be afraid to ask about anything on your loan; the financing team you will work with is more than willing to explain everything.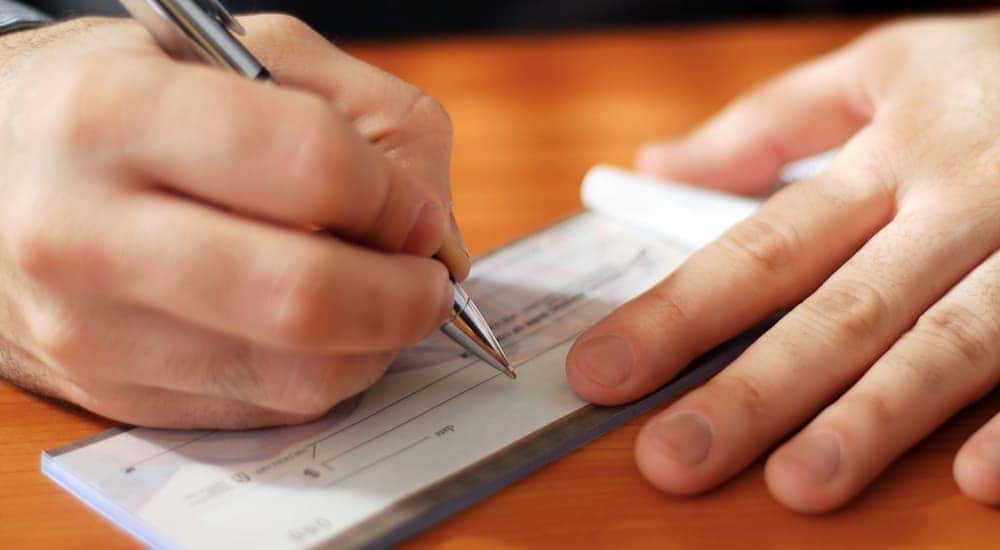 Know Your Price
If you plan to utilize the service on a dealership's website, you should have a definite figure in mind about how much you can afford to spend on a car. Before shopping, it's better to find out how much you can get a loan for, and then also consider how much you have set aside in savings to make a down payment. You can secure loans without down payments, but you pay a lot less over time if you pay even a minimal down payment when you buy. You can even trade-in your current vehicle and apply it to your new purchase.
Remember that you must include fees and service charges, taxes, and interest that will accrue over time. When you think about the price of a car in comparison with the amount an institution will lend you, remember to keep the fees in mind. Do some math before you shop to see how much interest will accrue over the number of years it will take to pay back the loan and add that onto the price of a car you want to buy. It helps to think about the overall picture before you get into a financial relationship. Thinking ahead will help minimize the risk of you not being able to afford the car payments over time.
Will It Really Take Only Five Minutes?
At Derrow CDJR, your car loan is only minutes away. To fill out the five-minute car loan on our website, you just need to answer a few quick questions, and it will take five minutes or less to get approved for your auto loan. At Derrow CDJR, we work with over 35 lenders, so you know you will get the best rate. All you need to do is answer a few quick questions, and then we will handle the rest. You'll be approved for your car loan in no time at all, and you'll be prepared for when you step foot on our lot. After you've found the right financial plan, visit us in Defiance, OH, and we'll help you find the perfect new car, truck, or SUV.